CGH – large filter specialists
Steel tanks for water treatment technology.
Submerged arc welded on automated production line.
Production plant supervised by UDT, TÜV and NORD.
Topcoat of C3 Class as a standard corrosion protection coating requires no additional tank painting on-site water treatment plants. The coatings are applied in spray booths.
Inspection hatches sizes DN 500 and DN 600 facilitate access to the interior of the tank during maintenance work.
Recognized supplier in the market of nozzles and drainage pipes guarantees a long service life. Precise manufacturing of nozzles ensures excellent performance during filtration, air and water flushing and the filter
venting beneath the nozzle plate.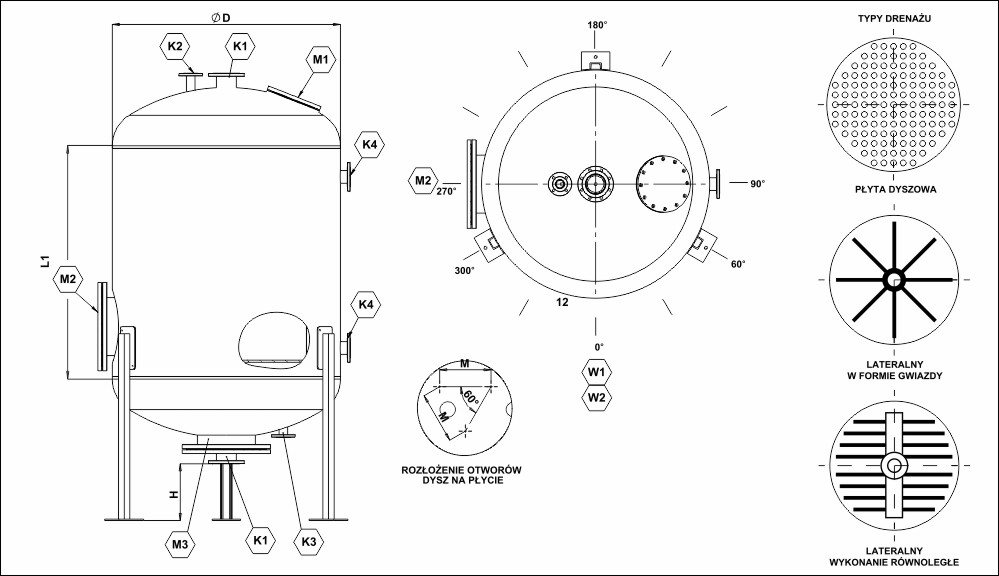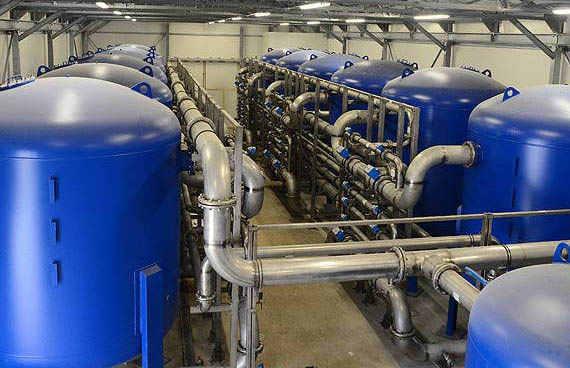 Basic dimensions of tanks:
Type
Diameter
Height of cylindrical section L1
Water inlet & outlet connections
Hopper hatch
Inspecti on hatches
Ventilation port
Compressed air connection
L1
K1
K4
M1
M2
M3
K2
K3
[mm]
[mm]
DN PN10
DN PN10
DN PN10
DN PN10
DN PN10
FC08-1
800
1500
100
250
400
50
50
FC10-1
1000
1500
100
250
400
50
50
FC12-1
1200(1250)
1500
100
250
500
50
50
FC12-2
1200(1250)
2000
100
250
500
50
50
FC14-1
1400
1500
125
250
500
50
50
FC14-2
1400
2000
125
250
500
50
50
FC16-1
1600
1500
125
250
500
50
50
FC16-2
1600
2000
125
250
500
50
50
FC18-1
1800
1500
125
250
600
50
50
FC18-2
1800
2000
125
250
600
50
50
FC20-1
2000
1500
125
300
600
80
80
FC20-2
2000
2000
150
300
600
80
80
FC22-1
2200
1500
150
300
600
80
80
FC22-2
2200
2000
150
300
600
80
80
FC24-1
2400
1500
150
300
600
80
80
FC24-2
2400
2000
150
300
600
80
80
FC25-1
2500
1500
200
300
600
80
80
FC25-2
2500
2000
200
300
600
80
80
FC28-2
2800
2000
200
300
600
100
100
FC29-2
2900
2000
250
300
600
100
100
FC30-2
3000
2000
250
300
600
100
100