Underground double-skinned tanks
Technical data:
Design norms: EN 12285-2 class A or class B, DIN 6608
Technical documentation approved by Notified body
Material – S235JR according to EN10025-1 or stainless steel
Single or multi-chamber tank
Working pressure: max 0,5 bar
Working temperature: from -20°C to + 50°C
Optional equipment:
Street covers in class C 250 kN nad D 400 kN
Steel sumps
Central filling points – Aluminium and Stainless steel
Galvanized anchoring bands
Leak detection system GOK Afriso, SGB
Monitoring systems OPW and others
Purpose:
Storage of flammable and non-flammable, liquids harmful to the environment with a density up to 1,1 kg/dm3 for EN 12285 class A and to 1,9 kg/dm3 for tanks EN 12285 class B and DIN 6608.
Outer surface:
Abrasive grit-blasted to grade Sa 2,5 according to PN-ISO 8501-1 and external anticorrosion Polyurethane coating puncture tested at 10 kV/14 kV
Outer surface:
Pressure test of both inner tank and interspace according to the norm:
| | | |
| --- | --- | --- |
| EN 12285-1 | class A | 0,3 bar/0,4 bar |
| EN 12285-1 | class B | 2,0 bar/0,6 bar |
| DIN 6608 | – | 2,0 bar/0,6 bar |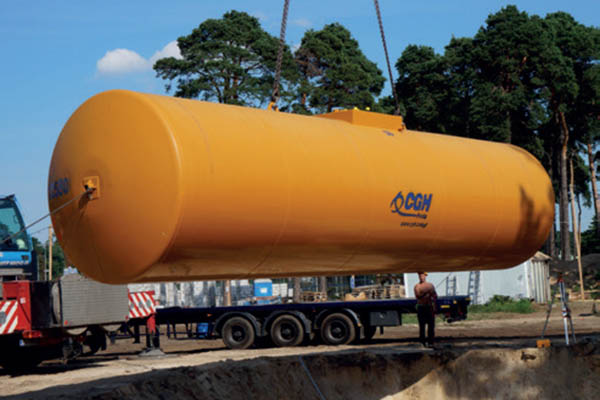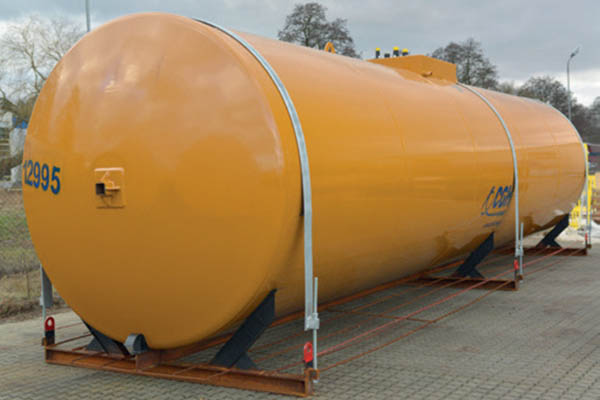 Underground double-skinned steel tanks meet the norms for storage of flammable and hazardous liquids. For years they have met all the requirements established by European countries regarding environmentally harmful liquid storage. Two solid and at the same time flexible steel jackets, insulated with a Polyurethane layer on the outside, along with interstitial space monitoring, constitute safe and ecological solution for fuel storage. Our industrial series production is constantly supervised by a Technical Inspection Office, which guarantees that each tank manufactured fulfills all technical requirements and high quality.
Underground storage means safety and space saving.
One of the greatest advantage of underground storage is the possibility of using a high capacity tank, up to 120 000 litres.
Standard tank equipment:
Depending on the client's requirements, a tank is equipped with:
a filling pipe with an overfill prevention valve
suction pipes
drain pipe for pumping out the water from the bottom of the tank
gauge pipe for measuring the level with a dipstick
manual gauge connection
automatic gauge connection (for a measuring probe)
vent connection
spare connection
VRS connection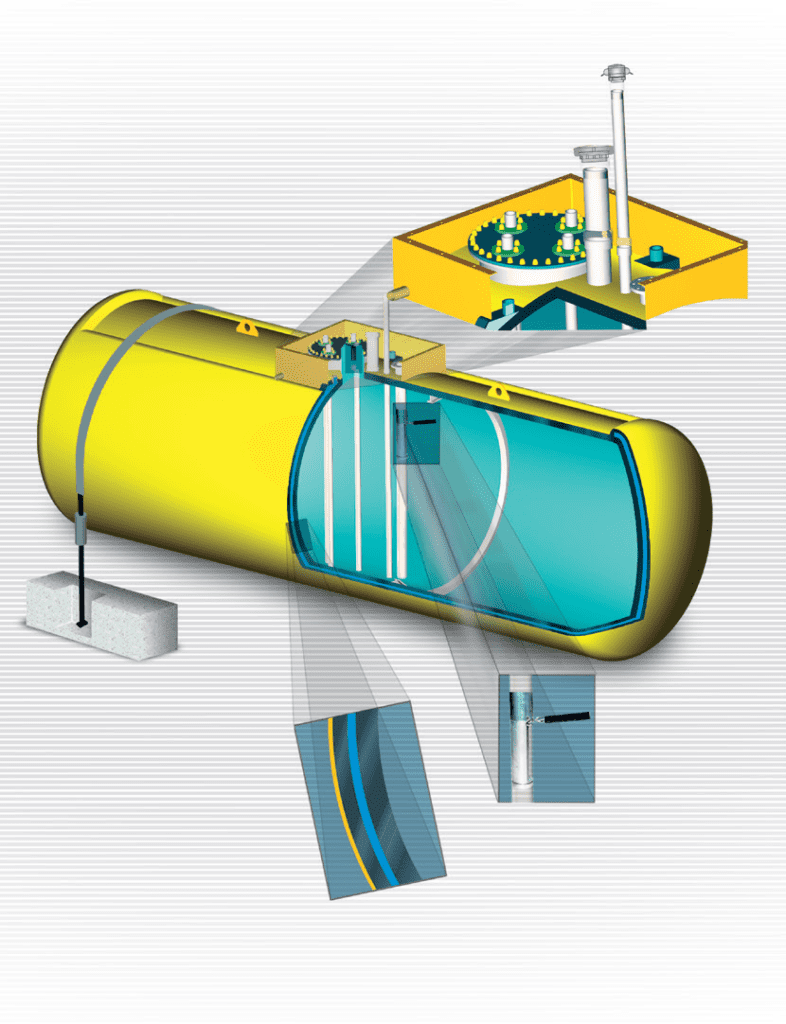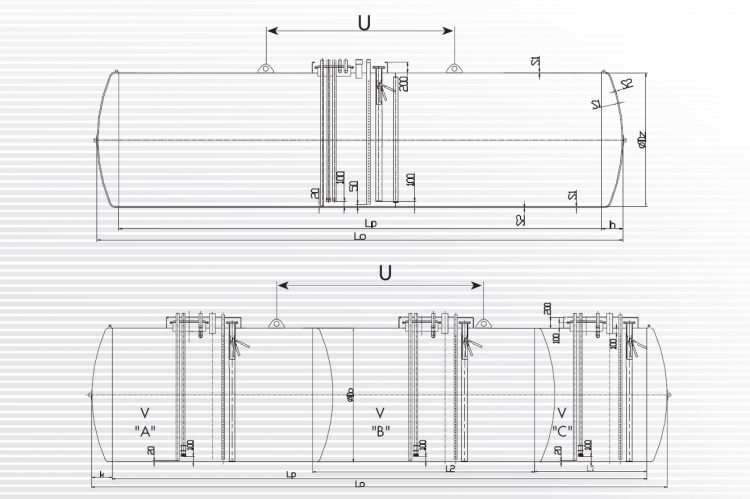 Basic technical data:
Volume
Diameter
Length
Weight*
Weight of
additional chamber
Length
of the
cylinder
Height
dishedends
Manhole
Wall thickness
Handle
Inside ring
class A
class B
class A
class B
V
Dz
Lo
Lp
Lp
h
DN
S1
S2
S1
S2
T 80
[m3]
[mm]
[mm]l
[kg]
[kg]
[kg]
[mm]
[mm]
[mm]
[mm]
[mm]
[mm]
[mm]
[pcs]
[pcs]
3
5
8
10
13
16
1600
1600
1600
1600
1600
1600
2250
3250
4750
5750
7250
8750
1050
1350
1800
2150
2600
3050
351
351
351
351
351
351
351
351
351
351
351
351
1500
2500
4000
5000
6500
8000
270
270
270
270
270
270
600
5
3
5
3
1
1
2
2
2
2
–
–
–
–
–
–
10
13
16
20
25
30
35
2000
2000
2000
2000
2000
2000
2000
3900
4900
5900
6900
8900
10400
11900
2150
2600
3050
3450
4350
5050
5700
522
522
522
522
522
522
522
522
522
522
522
522
522
522
3000
4000
5000
6000
8000
9500
11000
330
330
330
330
330
330
330
600
6
3
6
3
2
–
–
–
–
1
1
1
20
25
30
40
50
60
70
2500
2500
2500
2500
2500
2500
2500
5050
6050
7050
9050
11050
13050
15050
3950
4600
5250
6650
7950
9350
10650
730
730
730
730
730
730
730
818
818
818
818
818
818
818
4000
5000
6000
8000
10000
12000
14000
400
400
400
400
400
400
400
600
6
4/5
7
4/5
2
–
–
–
1
1
2
2
40
50
60
70
80
100
120
2900
2900
2900
2900
2900
2900
3000
7150
8650
10150
11650
13150
16150
17900
6850
8150
9400
10650
12000
14500
16900
1045
1045
1045
1045
1045
1045
1200
1279
1279
1279
1279
1279
1279
1470
6000
7500
9000
10500
12000
15000
17000
450
450
450
450
450
450
450
600
7
4/5
9
4/5
2
2
2
4
4
4
4
–
1
2
2
2
2
3
* Approximate weight of a tank with one compartment
Tank Sumps
Steel tank sumps for green area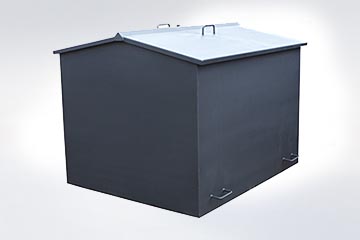 Street covers