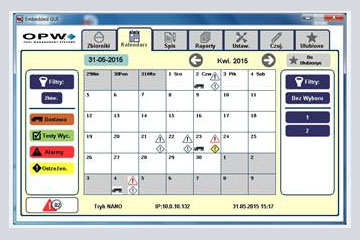 Product information
SiteSentinel® Nano™ is a control and measurement system by OPW intended to:
Measure the amount of liquids in the tank with a magnetostrictive probe,
Control the interstitial space of the tank, e.g. with sensors to include gap, optical or vapour sensors.
Additionally, the control may include reporting on leaks in:
tank sumps,
under petrol pumps,
piezometer boreholes around the tank field,
space between double-wall fuel pipelines.
The system is used in the following locations:
fuel stations,
boiler houses,
small warehouses of petroleum products,
and wherever a liquid level in a tank has to be monitored.
It can be used to gather and process data on the amount of fuel in the tank, stored liquid temperature readings, measurements of water at the bottom of the tank.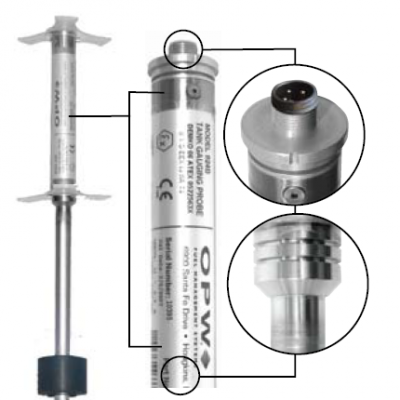 924 B series magnetostrictive measuring probe
924 B series probes are tank filling level gauges,
ensuring operation under dynamic conditions of measurements of a wide range of liquids, including LPG and AdBlue.

Tightness monitoring sensor
The task of the sensor is to detect liquids and leaks in cooperation with the OPW system.
Depending on the type, design and function, the following are distinguished:
Gap sensor
Liquid fuel level sensor
Sump sensor
Optical liquid sensor
Vapour sensor

Advantages
SiteSentinel® Nano™
Accurate measurement of a medium in the tank in real time (accuracy class I probe).
Large colour LCD touchscreen and user-friendly interface based on graphic symbols.
Controls up to 12 measuring probes and 24 sensors (4 probes and/or 16 sensors can be connected to the same barrier).
A schedule for automatic generation of reports on a daily, weekly, monthly or annual basis can be programmed.
Generated reports include: current tank status, history of supplies, events in progress, history of events, tank leak tests.
Mobile access (GSM network, Internet) for remote management and servicing of the station (control of stock, supplies, emergency situations, leaks, training, configurations).
NANO controller with factory installed TCP/IP communication options. In practice, it means possible access to the system (to a varying extent) locally from a PC, mobile phone, personnel/driver, remotely from a PC, mobile phone. Sensitive information on leaks, alarms, supplies can be sent by text message/email.
924B series probe
Guarantees full control of stock and leak tightness of single- and double-shell tanks.
924B probes (gauges) are made entirely of stainless steel which ensures their compatibility with a wide range of conventional and unconventional fuels and other liquids.
In fuel tanks, in addition to fuel level measurement, 924 B probes measure water level, temperature and density as well.
The probe manufacturer (OPW FMS) has the status of an accredited measuring laboratory and calibration certificates issued by the same are recognised by the Central Office of Measures and other national institutes of metrology. It will be easier and cheaper for a customer buying CGH tanks to obtain legalisation.
The probes are class I accurate with the ability to detect of single- and double-shell tank leaks.
The 'multidrop' option for possible connection of a few probes and sensors to the console with one cable only.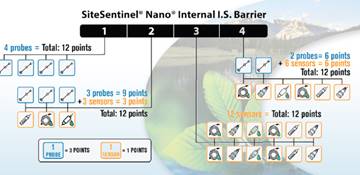 Technical information
Control panel:
alarm signalling: sound, visual, possible external signalling (relay),
The design of the intrinsically safe inner barrier allows a few devices to be connected to the same EX channel.
The system operates in the network with a static or dynamic (DHCP) IP address.
Liquid amount measuring probe:
Technology: Magnetostrictive with float level indicators
Material: stainless steel
Working environment: EX zone, category: Class 1, Division 1, Group D
Temperature measurement: 5 independent thermistors over the entire length of the gauge
Temperature operating range: -40º to 60º C
Maximum cable length:
300 m for a Belden 88760 type cable
150 m for a Belden 88761 type cable
Maximum probe length is 605 cm
Leak tightness monitoring sensor:
Operating temperature range: -20°C to +50°C (-4°F to 122°F)
When the connection cable breaks, a system alarm will be triggered
Cabling: a cable resistant to gases and oils
Dimensions depending on the selected sensor model